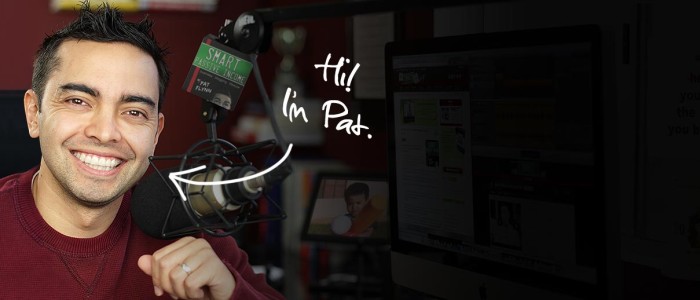 If you've been in the online marketing space for more than a couple years, I'm sure you've heard of, and probably already follow, Pat Flynn.
If you're newer to the internet marketing universe, his name may be new to you.
Pat Flynn is the creator and founder of the website SmartPassiveIncome.com.  He also has a very popular podcast, by the same name, a unique YouTube channel, and many other online ventures.  From all this comes his shtick – his businesses generate passive income for him resulting in a lifestyle for himself and his family that is not tied to any time clock or specific clients.  Pat's produced numerous products to help others get online businesses started and make the same lives for themselves.
I first heard about Pat a couple years ago, but for whatever reason, didn't put too much thought into what he was doing.
Yesterday was a different story though – I spent around 4 hours diving deep into his blog, visiting his various websites, and watching his videos on YouTube.
Needless to say, I was astounded by the quality, quantity, and transparency of content that he has put out there.
If you're building an online business, whether that be affiliate marketing, content marketing, blogging, or you name it, following Pat Flynn is gonna benefit you.
I love the content he gives on building niche websites, running a successful affiliate marketing biz, and tips for email marketing.
But what I really found intriguing and eye opening was his transparency towards sharing his business financials – down to the dollar.
Personally, I've become a little tired of all the hypey success stories out there that contain a little too much BS in my opinion.
Keepin' it positive here…
Pat's providing of his income reports does a couple things for us online marketers – it shows what exactly is possible and also sets realistic expectations.
For example, I consider myself "relatively" new to internet marketing / online business.  This year (2015) has been my 2nd year working online.
I've been focused mostly on affiliate marketing.  Recently I've been researching how to build a content based niche website.  Pat has built a number of these sites (FoodTruckr.com, SecurityGuardTrainingHQ.com, and GreenExamAcademy.com)  and honestly, what surprised me was how little of his income came from such sites!
The three mentioned sites combined for around $4000 in revenue for October 2015.  That isn't bad, I simply thought it would be more.
I now know the importance of picking the right niche for a website.  None of this slap-up-a-website-and-watch-the-dollars-roll-in.
Researching to get the right niche is critical, and fortunately, Pat has a blog post on exactly how to make that selection.
I'm stoked to have "found" Pat Flynn, his blog and his podcast, and hope that this blog has helped you too!
If you liked this post, say "Thanks" by sharing it