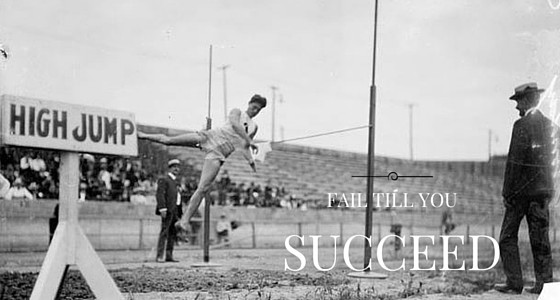 The year was 1963.
Medford Oregon.
A young man,
Who is now recognized as one of the most influential in his field in all history,
Was struggling.
He was being taught to perform a certain way, but it was simply not working out for him.
All of his peers were having success with the traditional, old-school, methods.
But this fellow wasn't.
He was failing.
If he was to continue practicing the technique he was being taught, his career would be over before it began.
Thankfully he had no quit in him.
His determination to succeed led him to starting experimenting.
He found a way, a technique, that worked for him.
It felt just right.
Success did not come over night though.
Over the next 5 years, he faced opposition.
He was called lazy.
He was compared to a fish.
This didn't stop him. He perfected his craft.
Payoff came on a muggy night in Mexico City.
Dick Fosbury set American and Olympic records on his way to winning the gold medal for high jump at the 1968 Summer Olympics.
At the next summer olympics, 70% of the high jumpers were using his technique.
The Fosbury Flop.
For decades, the only way to build a network marketing business was using traditional, old school methods.
Calling friends and family
Hotel meetings
Using the 3 foot rule.
If this has worked for you and brought you success, that's awesome and good for you.
If you haven't seen success this way, don't despair.
Dick Fosbury found his alternative and the rest is history.
Today's blog post at Elite Marketing Pro reveals what to do when your upline doesn't want you to use the internet to build your business.
Click the following link to read it.
http://skehler.elitemarketingpro.com/blog/what-to-do-when-your-upline-doesnt-want-you-to-use-the-internet-to-build/
There's a good chance that if your upline has been successful with traditional business building methods
You'll face some opposition to growing your business online.
We are getting close to the whole mlm industry accepting internet recruiting as a legit way to build.
In fact, one of the top mlm leaders (his initials are E.W.) admitted recently that online methods work.
Today's blog post over at EMP gives you the six steps that 7 figure earners use to attract new clients and prospects.
Shoot me an email after you've read it.
I'd love to hear how you'll use this for your business.
Have a great day!
Steve Kehler
Facebook: www.facebook.com/stevekehlerpage
Twitter: @steve_kehler
Google+: plus.google.com/+stevekehler
P.S. I found an interesting way to get our puppy to stop biting…
I yelp REAL loud!
Thanks Cesar Milan.
Not the most attractive thing, but neither is that biting.
If you're blogging and want to attract more readers, you've gotta have powerful content.
Here are 10 surprisingly simple secrets that will have your content pretty much writing itself
Click my naked affiliate link below to get them…
https://skehler.elitemarketingpro.com/lm/perfect-blog-post.php
If you liked this post, say "Thanks" by sharing it