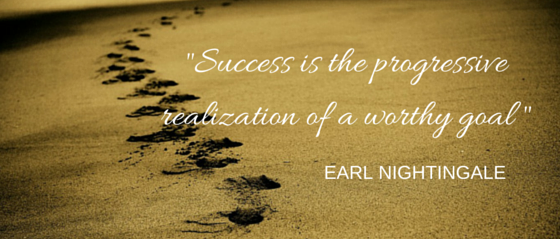 "Success is a journey, not a destination.  The doing is often more important than the outcome." ~ Arthur Ashe
Goals are great.
The destination is what we are aiming for.
Without them, we'd be aimlessly wandering through the desert.  Like the Israelites did for 40 years.
But so often, we get tunnel vision and all we see is the that final end.  We believe that our success is defined by the achievement of that goal.
There is no smelling of the roses along the way.
I've totally struggled with this, and still do.
I never even considered that there was an alternative until I listened to Earl Nightingale's "Lead The Field" program.
Mr Nightingale defines success as "the progressive realization of a worthy goal or ideal."
You are already successful if you are moving towards your goals!
A wealthy businessman was asked what it was like to finally become successful after overcoming many struggles and obstacles.
His response…
"Oh, I didn't just now become successful!  I was successful years ago, when I was sleeping on my friends sofa and living off of peanut butter and jam sandwiches!"
That was his mindset.  He was successful while working towards his goals.  Long before he reached them.
That's the mindset we need to adopt as well.
Having the belief that we are successful right now, today, as we work towards our goals, greatly increases the chance of us reaches those goals.
Setbacks and hurdles will not throw us off course, but rather strengthen our resolve as we know that they are simply part of the journey.
Here's a question…
When you go on a vacation, when does it begin?
When you get to your destination?  Or when you leave the house?
(Sometimes is may feel like it begins when you get back to work!)
Enjoy the journey.  Smell the roses.  And don't be timid to acknowledge that you are successful right now, right where you are.
If you liked this post, say "Thanks" by sharing it