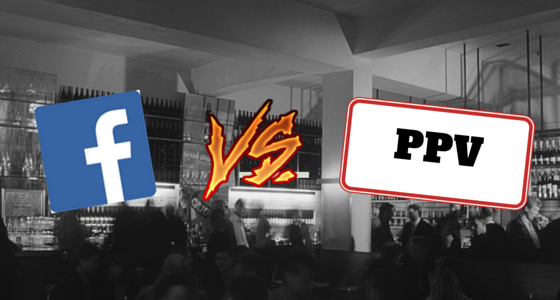 Facebook ads and Pay Per View (PPV) ads are two methods of internet traffic.
Is one better than the other?  That depends largely on your business and the niche that you are in.
For this blog post, I'm going to take the perspective of an affiliate marketer.  This is someone who either doesn't have or isn't marketing their own product.  They are promoting someone else's product or system and driving traffic to webpages that they "do not own."
New online marketers learn that the first key to affiliate marketing success is driving traffic.  Their initial goal is to get people to their capture page in order to generate leads.
The decision they face is how are they going to get these people to their website?  What should their method of traffic be?
Will it be through paid or not-paid traffic methods?
Not paid sources include creating YouTube videos, writing a blog, social media, etc.  Basically anything that doesn't cost money to send people to a website.
Paid sources include Facebook, Bing, Google, PPV, solo ads, etc.  Here the online marketer is paying to have their ad or link shown.
Facebook ads and PPV ads are perhaps the two most popular traffic methods when starting out.  I always recommend that it's best to get very good at one method of traffic, whatever that may be, before moving on to another method.
And so, it can be a big decision – which form of internet traffic to learn and invest in first.
A comparison of the two is in order.  Here it goes…
First of all, the similarities.
As in all traffic methods, paid or not paid, there is a learning curve.  Results in the beginning will be less than stellar.
With paid traffic, the first dollars spent will be disappointing.  You are essentially buying data.  But over time, with consistent action and improvement, the results get better.  More leads are generated at a lesser cost.
The kicker in that last paragraph is the requirement of consistent action and improvement.  Any traffic method will see a decrease in results over time if there isn't consistent optimization of the ad campaigns.
Both Facebook ads and PPV ads are a form of interruption marketing.  The ad is meant to make the viewer stop and take notice – it is interrupting their current train of thought.
The cost of the ad campaign in both Facebook and PPV is based on the number of views, or impressions, that the ad gets.  Facebook does give other options on how the ad campaign will be charged (ie paying by the click instead of by the view).  PPV charges are strictly based on the number of views.
That's the extent of their similarities.  Here are a few pros and cons to each method of traffic.
Facebook Ads – Pros…
It's a marketers dream.  The amount of data available for targeting is incredible.  Ads can be specific to the prospects age, gender, location, and interests.
1.5 billion users (approximately at this time).  Nearly an unlimited supply of prospects.
An ad can go viral.  When a Facebook user likes, comments, or shares an ad, the ad is getting free exposure.  Nothing wrong with free publicity.
Facebook's ad algorithms have been designed to help the marketer.  The ad can be given an objective, ie make sales, get leads, or have people engage with the ad.  Depending on the ads' objective, Facebook will look for the right user to satisfy it.
Retargeting.  This is huge.  If a prospect doesn't convert the first time around, either in Facebook or elsewhere on the internet, a specific ad can be shown to them.  Ever wonder how you're seeing an ad in Facebook that is related to the website you recently visited?  That's retargeting.
$0 startup cost.  You pay as you go.
Higher quality leads (than PPV).  Leads generated from Facebook will give you a higher sales conversion rate than those generated from PPV.  Just trust me on this one.
Facebook Ads – Cons…
Rules and restrictions.  Facebook's primary goal as a business is for the user to have a great experience within the Facebook world.  To Facebook, marketers and advertisers are not as important as the end user.  Advertisers are playing in Facebook's sandbox, so they must play by Facebook's rules.  Or be kicked out.  Facebook is critical of ads in regards to pictures, text, and niches.
These rules and restrictions are always evolving and changing.  You must stay on top of them or risk breaking them and being thrown in FB jail.
Facebook does not like MLM, make money opportunities, affiliate marketing, health products (as in before / after pictures, specific health claims), and certainly other niches that I'm not aware of.  If you are working in any of these spaces, and advertising your product or opportunity, be very careful – you are walking on thin ice.  Facebook will not hesitate to shut down your ad account (it has happened to me).  It is possible to reactivate your account (I was able to), but it is a hassle, takes time, and there is no guarantee that FB will do it.
Facebook does not like ads going straight to a capture page.  FB monitors how quickly a user comes back to FB after clicking an ad.  Too fast and FB takes note.  Facebook ideally wants ads to go to content of some sort.  A part of having success with Facebook requires the advertiser to have good content to drive users to.
Facebook users can determine an advertisers fate.  Just as an ad can go viral, Facebook users can also kill an ad.  If there is enough negative backlash from FB users regarding an ad, Facebook will take action.  Either that ad will be shut down or, worst case scenario, Facebook will shut down that advertisers' account.
PPV Ads – Pros…
Very few restrictions.  Promoting MLM, biz ops, health products – all are totally accepted.  The restrictions that exist are basically related to porn (depending on the PPV network), capture pages spawning pop-ups, and copy-cat website images.  Each PPV network differs slightly, so be aware of the restrictions for the network you are using.
The capture page is the marketer's ad.  No need to worry about driving traffic to great content.  A converting capture page is what's required to generate leads.
Easy targeting – it comes down to location (ie country – some networks allow targeting down to the city level), time of day for showing ads, and knowing the websites that are visited for your niche.
Very simplified advertising.  Fewer options (no retargeting, no age / gender targeting) make it more easy to learn.
The prospect has no control over the advertisers fate.  If the prospect wants to use the PPV networks product (whatever that may be) they have agreed to have ads shown to then.  The PPV network's user can not make an ad go viral or have an ad shutdown.  They can only either opt-in or not.
PPV Ads – Cons…
There is an initial start-up cost.  The PPV networks require advertisers to make a deposit to get started.  This ranges between $200 and $1000.  After spending that initial amount in advertising, further deposits are required before ads are run.
The targeting is easy and simple, but that also makes it a negative to PPV advertising.  Advertisers can only target by location, time, and website.
In comparison to Facebook, the amount of traffic is small.  No surprise here really.  The four largest PPV networks each have around 15 million users.  This pales in comparison to Facebook's 1.5 billion.  This doesn't mean that the PPV networks are lacking for traffic though.  It is possible to generate thousands of leads each month using PPV.
Lower quality leads.  Leads generated through PPV will give you a lower sales conversion rate in comparison to FB.  I don't have statistical proof for this.  I say this based only on my experience as a PPV and Facebook ads marketer.
If you are running ads with PPV, there is a free tool that will help you score leads from URLs that most marketers are not aware of.  You can download this free tool at PPVBoss.com/URL-tool.
It can be a tough decision picking a traffic strategy to run with.  Both Facebook and PPV have their good and bad points.  My recommendation is to pick one, commit to it, and get really good at it.  Fantastic results are possible through either traffic platform.
If this post has helped you, or if you have any further questions, I'd love to hear about it.  Please leave a comment below.  Also, if you know someone that is debating between using either Facebook or PPV for traffic purposes, feel free to share this post with them.  Sharing is caring!
Hope this helps!  Good luck!
If you liked this post, say "Thanks" by sharing it